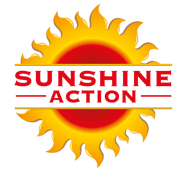 Volunteer With Us!
Sunshine Action USA is always looking for new people to get involved. One of the ways you can help is by volunteering at one of our events. Follow our social media accounts to find out when the next event is happening near you.
What Does Being A Volunteer Mean?
Most of our upcoming events will focus on food poverty relief for homeless people and low-income families. These events require lots of volunteers to assemble, pack and distribute our fortune bags. For each event you will be needed for 2-3 hours. Taking part in our events is great fun as you get to meet lots of other like-minded volunteers whilst helping the most vulnerable in society.
If you are interested in becoming a volunteer with us, please contact Monica Bhardwaj: 914 588-8722
Corporate Team Building
We offer corporate team-building events where your organization can partner with Sunshine Action to help us supply, package, and distribute packed Food Bags for one event. Company employees can serve as volunteers helping throughout the process. This unique opportunity allows companies to facilitate team bonding among employees while also supporting Sunshine Action's mission and helping the company achieve its charitable targets!
Upcoming 2023 - 2024 Opportunities
Partner with us for a team-building event to bring fortune bags to large NYC shelters, to communities of single moms in shelters. to low income families being supported by social worker networks or to street sleepers. Your company can sponsor a small or large event and help supply, packed food bags and distribute alongside the Sunshine Action Team! Join us in supporting the homeless and food disparity crisis in NYC!
We would appreciate all the help we can get - so, if you feel that your company can help in efforts please call to discuss the possibilities - 914 588 8722